On Saturday, March 16th, Bright Smiles in partnership with the Chatham-Kent Public Health Unit and help from our wonderful volunteers were able to provide 15 people in need with FREE dental exams, scaling, polishing and fluoride treatments through our "Give Where You Live" program.We provided $2,500 worth of treatment and none of that would have been possible without the help of;
Katie Gagner
Leeanne Pepper
April Towns
More
On Sunday January 13th we were happy to host a "Give Where You Live" FREE dental hygiene day for Habitat for Humanity. Without the help of our wonderful volunteers, we would not have been able to provide over $2,300 worth of free treatment to those in need in our community!I'd like to personally thank our wonderful volunteers:
Ashley Acs
Cathy Kocis
Krystle Armstrong
Leeanne Pepper
Lisa Lumley
#GiveWhereYouLive
More
Please note that Bright Smiles is closing from January 24th to February 26th as Christine is heading to Indonesia and the Philippines to help spread smiles!Christine will have limited internet access while away but will be prompt in returning calls and emails when she returns on the 25th of February.#SpreadingSmiles
More
Bright Smiles is happy to announce we've partnered with Habitat for Humanity and will be providing free dental hygiene treatment to those in need from our community next Sunday, January 13th.
To find out how to volunteer or donate to our Give Where You Live organization, please contact Christine at Bright Smiles to help give back!
#GiveWhereYouLive
On Saturday, December 8, Bright Smiles in partnership with the Chatham Kent Public Health Unit hosted our 11th "Give Where You Live" FREE dental hygiene clinic. We provided $2,761.96 worth of free treatment to clients from the Blenheim Youth Centre!A huge thank you to our volunteers for making the day a success!Also, thank you to Laura Carrick, RMT for graciously donating two 30 minute massages; one for a lucky volunteer and one for a client. Congratulations to our winners!#GiveWhere...
More
It is with great excitement that we announce that Bright Smiles, in partnership with Public Health Units and the Community Health Centre, have founded the Erie St. Clair Oral Health Coalition.
We advocate for provincially funded dental care by way of petitions to the legislative assembly of Ontario, and encourage our local MPP's to help close gaps and create a publicly funded oral health model for all.
We had no power but that didn't stop us! Bright Smiles visited with the YMCA's Beyond the Bell students at St. Agnes Catholic School. We reviewed brushing, flossing, nutrition and the importance of good oral health. It was a small, but great group of students!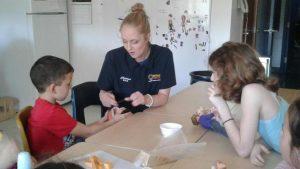 More
Bright Smiles has partnered again with the YMCA's "Beyond the Bell" program. We spent Friday afternoon at AA Wright in Wallaceburg teaching about nutrition and oral health. A huge thank you to the students for the lovely thank you card and great questions!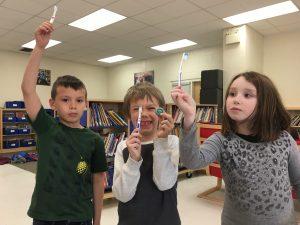 More
To say this past year and a half has been a journey would be an understatement. I am proud to be the recipient of the Chatham-Kent Chamber of Commerce "young business individual of the year" award. Opening Bright Smiles was a huge life goal realized. Without the support of the community, friend and most importantly my family, none of this would be possible. So I share this award with everyone who helped me along the way in making this dream a reality.
More
I had the opportunity to speak with Andrea Horwath, the provincial NDP leader on April 4, 2018. We discussed the party's plan to provide universal dental care and the impact it will have on our healthcare system.I am grateful for this wonderful opportunity and continue to advocate on the public's behalf to have OHIP cover dental care.
More
Today Bright Smiles "Give Where You Live" free dental hygiene clinic was in conjunction with the nation wide event "Gift From The Heart". We provided over $2,400 worth of treatment to 12 people in need in our community.We couldn't do it without the support of our amazing volunteer team so a HUGE heartfelt thank you to:
Cathy Kocis
Leeanne Pepper
Lisa Lumley
Janet O'Mara
#GiveWhereYouLive
More
On Saturday February 3rd, Bright Smiles CDH in partnership with the Chatham-Kent Public Health Unit hosted our 7th "Give Where You Live"
FREE
dental hygiene day.
$3,019.81
of treatment was provided at no cost to 15 members of our community.Since November of 2016, we have provided a total of
$16,281.21
in FREE treatment. We couldn't do it without the support of our amazing volunteer team so a HUGE heartfelt thank you to:
More